Do you feel your heart racing when you see the skydivers diving from above 10,000 feet? Have you ever wished you could fly like birds? If the answer is yes, and you are ready for the adrenal rush, it's time to experience skydiving. With proper training and precautions, anyone can enjoy the thrill of the aerial sport. With a certified expert strapped to your body, you can let your worries go completely and soak in positivity and joy!
Recently skydiving in India has gained a lot of popularity through mainstream media, movies, and social media. The Indian Skydiving & Parachute Association (ISPA) is a non-profit organization established in 2011 by skydivers and sports enthusiasts. The ISPA ensures that all the contemporary safety standards are incorporated in the skydiving and parachuting clubs to promote extreme adventure sports to everyone. The cost of skydiving in India is also affordable, with various memberships and packages available for skydiving enthusiasts. If you want to try out the adventure sport, there are plenty of safe and adequately equipped skydiving paradises in India. Explore these best skydiving places in India when you are ready for a dive!
1: Skydiving in Bir Billing, Himachal Pradesh

Himachal Pradesh is one of India's famous tourist destinations, which offers tons of opportunities for outdoor adventure junkies. Apart from boat riding, trekking, kayaking, water rafting, waterskiing, and windsurfing, it's also a skydiving paradise. The high-altitude mountains and the lush greenery offer jaw-dropping views to be cherished forever.
There are two popular hotspots for skydiving in Himachal Pradesh. One is the craggy terrain of Bir Billing, and another is the calm hills of McLeodganj. Also known as the Paragliding capital of India, Bir Biling is also one of the top three paragliding sites of the world. It also hosts the Paragliding pre-world cup in October. The starting point for the aerial sport is at Billing, and the landing occurs at Western Edge of Tibetan Colony in Chowgan, Bir.
2: Skydiving in Mysore, Karnataka

The historical city of Mysore is one of the best skydiving places in India. The pleasant climate across the year allows skydivers to enjoy the sport from the base of the Chamundi Hills. You can experience a tandem jump after 3-4 hours of training or enroll in the Accelerate Free Fall course as well. If you want to experience a solo jump from 4,000 feet, you need to allot a day for ground training.
The average cost for skydiving for a single person in Mysore is INR 35,000, along with the training. In Mysore, you can experience the solo free fall from 10000-15000 feet. However, the maximum dropzone height allowed for the tandem dive is 10,000 feet. You can expect a freefall of 30 seconds or less. But, the 15 minutes floating time is worth every penny.
3: Skydiving in Pondicherry, Tamil Nadu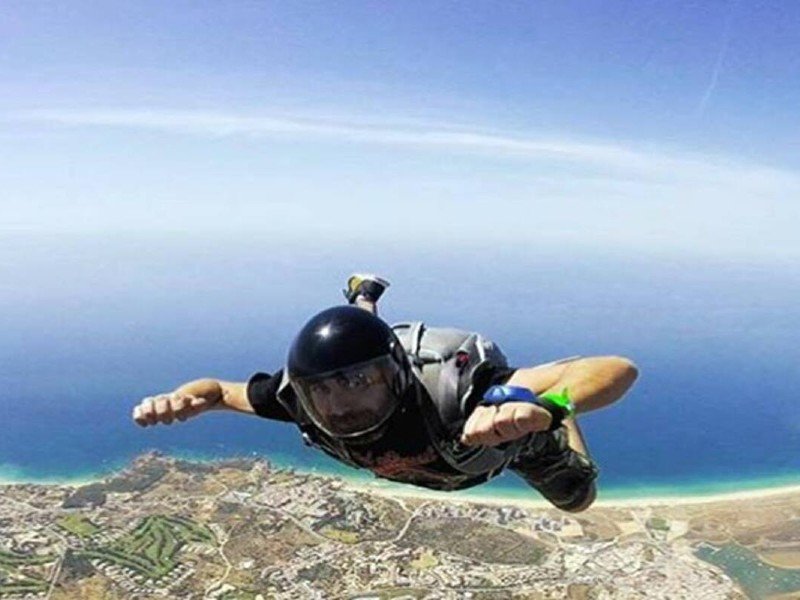 Pondicherry is a beautiful Union Territory of India, bordered by Tamil Nadu. The historical place with French colonial sentiments is a popular tourist destination for multiple reasons, and outdoor adventure is one of them. The spectacular landscape and beautiful coastline make Pondicherry one of the best places for skydiving in India.
Except for the monsoons, you can plan skydiving adventures anytime in Pondicherry. The organizers frequently host camps in Pondicherry due to the pleasant weather conditions. Adventure lovers flock in this place during the holidays. The maximum dropzone height for a tandem jump in Pondicherrry is 10,000 ft, and the average cost per person is INR 27,000.
4: Skydiving in Aamby Valley, Maharashtra

If you are looking for a skydiving spot near Mumbai, Aamby Valley should be your ultimate destination. The skydiving destination offers annual packages for the members and hosts camps around the year because of the pleasant climate. The long sunny summers provide ample opportunities to indulge in tandem jumps and free falls except for the extreme rainy or windy weather.
Located about 2 hours from the main city of Mumbai and about one hour forty-five minutes drive from Pune, Skydive Aamby Valley has certified instructors and equipment from Europe and the USA. Dive from 10,000 feet after a 45-60 minute training and enjoy the mesmerizing view of the Aamby Valley as your instructor deploys the parachute. The average cost for skydiving is INR 25,000 on the weekdays and 30,000 on the weekends, inclusive of videography services and training.
5: Skydiving in Narnaul, Haryana

To promote extreme adventure sports in India, the Haryana government has recently initiated skydiving sports at Bachhod Airstrip in Narul. The Pioneer Flying Academy, located 2 hours away from New Delhi, is authorized to conduct tandem and static jumps using Cessna 172 aircraft. The maximum height for tandem jump allowed in Haryana is 10,000 feet, and the average cost per jump is INR 27,500, including a one-hour spot training. The international skydiving zone is one of the best skydiving places in India, even for first-time jumpers.
6: Skydiving in Dhana, Madhya Pradesh

Dhana is a census town located in the Sagar district of Madhya Pradesh. The serene town has an airstrip that has various operators who organize skydiving camps frequently. In fact, India's first skydiving camp was organized in Dhana by Thrills Extreme. Although the freefall timing is relatively less here, the vast landscape is worth the flight. You can jump off from 9000 – 10000 feet in Dhana, with a freefall speed of 120 mph. The average expense per person is INR 35,000 – INR 37,500. Dhana is one of the best skydiving places in India, even if you have no prior experience.
7: Skydiving in Deesa, Gujarat

The serene lakeside city of Deesa, in the district of Gujarat, is the first Indian state to have a certified drop zone for a skydiving adventure. During the holiday season, tourists flock to this spot to indulge in the sky adventure. The Sports Authority of Gujarat and Indian Parachuting Federation hosts several skydiving tours and camps here. It is one of the best skydiving places in India for beginners and experienced skydivers, as the spectacular views will treat your eyes to the lake and the landscapes of the city.
The maximum dropzone height of Deesa Skydiving Spot is 3000-4000 feet, and the expense for a tandem jump in Deesa is INR 33,500 with a long ground training. For a static jump, you need to undergo training for 1.5 days as you jump alone and stay connected with your instructors over the radio.
Is Skydiving Safe in India?
Even though skydiving is at a nascent stage in India, the best skydiving places of India boast international units with qualified instructors and top-notch equipment. With a certified instructor strapped with your body, you get to enjoy the moment without any risks. Chances of accidents in the sky are much lesser than car accidents. However, a fitness certificate is mandatory before diving.
What Is the Minimum Age for Skydiving in India?
The minimum age for a static jump in India is 16 years, and 18 years for a tandem jump. Underage children are not allowed skydiving in India.
What Is the Cost of Skydiving in India?

The approx. cost for skydiving in the best places of India can cost around INR 25,000-35,000, including the training. If you want to take up the Accelerate Free Fall courses, it costs around INR 2,25,000 for the long ground training.
Can You Go Skydiving if You Are Afraid of Heights?
Fear of heights is common among many skydivers. Many skydivers have jumped off thousands of times, even with the fear of heights. It is neither a disadvantage nor unusual to experience fear during a skydiving adventure.
What Is the Maximum Height for Skydiving in India?
Most skydiving places in India allow jumping off from 12,500 feet or 4000 m with a freefall time lasting up to 40-50 seconds. Jumping off from very high skydives requires pressured oxygen in the aircraft. Most of the Indian skydives allow jumping off from 10,000 feet or 3,000m.
Conclusion
If you desire freedom and exhilarating joy, skydiving in India is an ideal opportunity to feel the bliss like a bird. A few seconds after jumping off the aircraft, the wind supports your flight against gravitational pull. When you are in absolute control of your body movements and your nerves tingle with the thrill of adventure, your senses are heightened, and you feel most alive when your mind sharpens and focuses on nothing but the moment.
A tandem jump is the easiest training method for first-time skydivers, but generally costs more than a static jump. In this method, minimum participation is required by the jumper as the instructor is responsible for deploying the parachute or maneuvering the free fall. After your first jump, you may opt for Accelerated freefall (AFF) or Tandem AFF courses to experience a solo freefall from 10,000-15,000 feet.
So, are you ready for a dive from the best skydiving places in India?